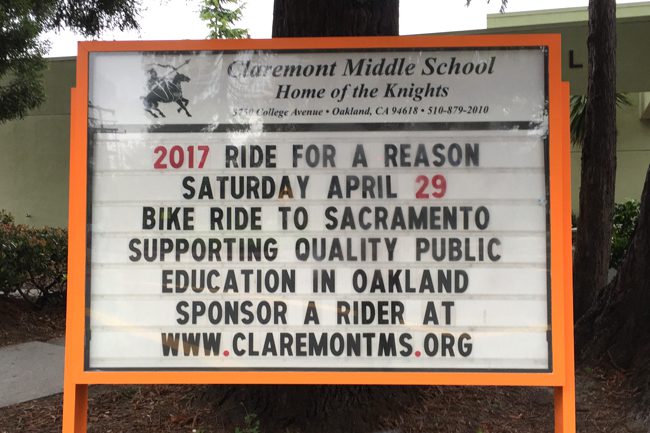 Now is the time to sponsor a rider in this year's Ride for a Reason! Visit the Ride for a Reason Web site to make your  pledge now »
Ride for a Reason is an annual cycling rally and education fundraiser conceived in 2008 by a group of Claremont parents who were frustrated by deep state budget cuts affecting public schools. They decided to ride from Oakland to Sacramento to dramatize their determination to do better for California's students. Since that time, Ride for a Reason has grown from a small group of cyclists to around 250 teachers, students and community members pedaling together to raise money for seven public schools here in Oakland, while raising awareness of the need for increased state education funding.
The fully supported ride features various route options ranging from 45 miles to 120 miles, with all riders seeking pledges from family and friends to help us reach our 2017 fundraising goal of $120,000. Please make a contribution now to support your favorite cyclist!