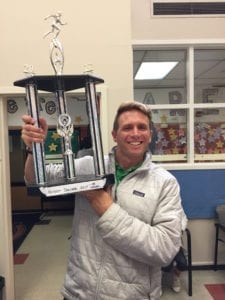 Dear Claremont Students, past Students and Parents,
It is with a heavy heart that I am writing to inform you that the 2017 – 2018 school year will be my last as a teacher at Claremont. After eight wonderful years here, I will be moving South to obtain the professional degree of Doctor of Physical Therapy at the University of Southern California in Los Angeles. While the opportunity to continue my education is exciting I must say the move away from the
Claremont community is bittersweet.
Reflecting on my time at Claremont brings up so many wonderful memories and I would like to take a moment to express why I am so grateful for my time here:
The students of Claremont
I feel incredibly lucky to have been able to work with every single one of the students that have come into my classroom. I can say that without a doubt it has been an absolute joy to teach every single student I have had. While many people are surprised that I would want to teach middle school aged kids, I am not. The students of Claremont keep each day fresh, humorous and full of inquisitiveness. It has been fun to see the excitement and eagerness of each new class of sixth graders on their first day of school and it has been equally special to see their faces again as they have graduated high school. I will forever cherish the countless stories that I have from the kids of Claremont and I hope to rehash them with you all as we keep in touch into the future.
The amazing, committed parent community
The parent community at Claremont has been and remains an incredible force. I am grateful for the amazing commitment of all the parents that have fully committed to supporting the public school system and by committing their blood, sweat and tears to provide a free and rigorous education for the children of Oakland.
Thank you all of your service and for the smiles, encouragement and friendship you have provided me over the years.
The staff and the administration
I would like to start by thanking the incredible teachers, past and present. No one has a harder job than those of you on the front lines of this incredibly important work. Thank you for your support, energy and commitment to the kids. And to the entire administration and support staff – thank you as well. Thank you for commiserating when needed and providing an energizing smile.
In short, one page is not enough to express my gratitude appropriately. Thank you all for the last eight wonderful years. I hope you stay in touch.
– Mr. Lesser
MrLesserScience@gmail.com