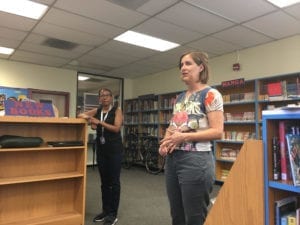 The PTA is excited about the impact donations have had at Claremont this year — more classroom aides than ever before, support for after school clubs, sports, art, music, field trips, teacher development, and supplies. Our families have given generously — Thanks to Each and Every One of You!
Yet, even with the incredible fundraising year, we still need to raise an additional $20,000 to reach our fundraising goals for the year.
To that end, the PTA has created a YOU CARING page that we hope will allow families to ask their networks — co-workers, extended family, neighbors, friends — for the additional support we need to meet our fundraising goal! Of course, donations from CMS parents are also always welcomed!
We are focusing this campaign on Claremont's great library, which has been nurtured by our longtime librarian Carla Reimer, along with most recently, Emily Phillips. Our knowledgeable parent volunteers keep the library humming.
Since the district pulled its support for it in 2017, the Claremont library is now among the PTA's single biggest expenses. We need to raise this additional money to ensure we can continue to fund this great resource AND all the wonderful programs at the school.
The Library Campaign will run until the end of the school year. Any questions? Please contact John Ifcher at johnifcher@gmail.com.
And don't forget – Please share this link by email and on social media.
Thank you!