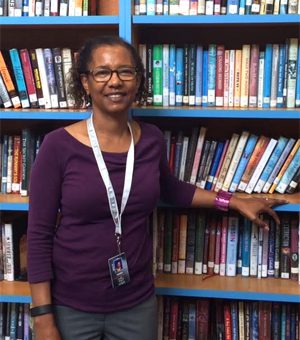 If you remember your middle school library as a hushed, foreboding place full of mildewing books that nobody touched, then the Claremont library might be a shock to your senses.
"It's important to me that the library be a welcoming space for kids," says longtime librarian Carla Reimer. "I never expect it to be totally silent. I want kids to relax and socialize."
More time being around books translates to more time reading books. Reimer makes a point of getting to know kids personally and finding out what their interests are so she can recommend titles that are likely to capture their attention. "I call it 'concierge time' and I really enjoy it."
"These days graphic novels are among the materials that circulate the most," Reimer says. She's a big defender of graphic novels, both as a first foothold for reluctant readers and also as a quality literary genre in its own right.
Reimer even lectures at ComicCon about discovering diverse materials and putting together the essential graphic novel collection. Clearly she's doing something right, because kids look forward to their library visits, even turning the room into a popular lunchtime destination.
But getting to this point hasn't been easy.
Years ago, the OUSD paid for a librarian, but that fell by the wayside. When Reimer arrived, the PTA paid her salary but the District provided money for the books. And then even that money dried up.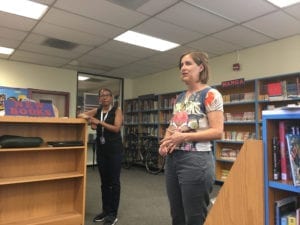 Today the PTA is the sole support for this valuable resource, and this year has seen the addition of Emily Phillips, a second librarian.
Between the two, the library is open for business five days a week.
"Without the PTA there would be no library," says Reimer. "It's as simple as that. There would be no librarian, no books, just some dusty room." Maintaining this level of funding for the library is a key, ongoing goal of the PTA. "This all happened because people got excited and the PTA stepped up," she says. "Now just imagine it one hundred percent gone."
When she was a kid, Reimer was given a red corduroy notebook for winning the summer reading contest at her local library, and she still lights up when she talks about that day.
"Whenever I tell someone I'm a librarian they tell me about a librarian they remember from their childhood who was either really great or really awful."
Ask any student at Claremont and they'll tell you they've found the great ones that they'll remember for years to come.