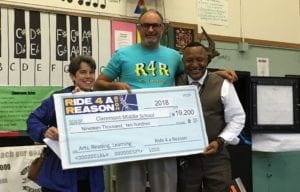 Josh Polston, Claremont parent and Ride for a Reason organizer, delivered a giant check for $19,200 at the PTA meeting on Thursday night.
In April, more than 250 people pedaled to Sacramento as part of Ride for a Reason and raised money that is then divided equally among eight Oakland public schools, including Claremont.
Ride for a Reason has set the date for the next big ride – April 27, 2019.
Thank you riders, donors, educators and all R4R volunteers!