The Claremont Dads Club Pancake Breakfast traditionally features an opportunity to purchase raffle tickets for a variety of prizes, and this year is no exception. Raffle tickets cost $5 each or five for $20, payable with cash, check or credit card at the event. Our grand prizes this year include TWO pairs of Oakland A's VIP Skybox Tickets donated by Oakland District City Council Member Dan Kalb, and a 26" Huffy bicycle (pictured above). Additional prizes include:
Commodore Cruises Dockside Dinner for Six
$25 certificate for Jules Thin Crust Pizza
Certificate for three sundaes at Fenton's
Two $25 certificates for Bakesale Betty
In-N-Out Burger swag and certificates
$30 certificate for Berkeley Bowl
$25 certificate for Big 5 Sporting Goods
$50 certificate for Rosemunde Sausage Grill
Lunch for two at Hopscotch
$50 certificate for the Lazy Dog Diner in Concord
$20 certificate for The Hatch

Active Sports Club 3-month membership
Four mini-golf passes for the Scandia Family Fun Center in Fairfield
$20 Fudruckers certificate
Certificate for four burgers at Habit
$25 Sprouts Market certificate
Bocce Ball for 10 at Compo di Bocce in Livermore
$30 certificate for Souly Vegan
Certificate for two entrees at Crogan's
Massage by Mikeh Certificate
Two lunches at Zio Fraedo's
---
This year's Pancake Breakfast will be on on Saturday, Feb. 25, at the Rockridge Masonic Hall. Advance tickets may be reserved online for $10 per person. There is no fee for online purchases, and the site accepts credit cards, debit cards or PayPal. Click here to reserve now »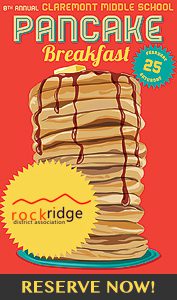 As in years past, Lodge members will fire up their griddles and serve a hearty morning repast including pancakes, eggs, sausage, bacon, fruit, coffee and tea. The Rockridge Masonic Hall is at 5449 College Ave., across from  the intersection of College and Kales.
Note: There are three scheduled seatings: 8 a.m.; 9:15 a.m.; and 10:30 a.m. All tickets are time specific, so be sure to select the seating time you prefer. If available, tickets sold at the door will be $12 each. Children under 5 years old eat for free and do not need a ticket.
Advance tickets also may be purchased with cash or check from the Claremont Dads Club, or from Pegasus Books (corner of College Ave. and Ocean View). For information, contact Dads Club Co-Chair Morris Dye at webmaster@claremontms.org.