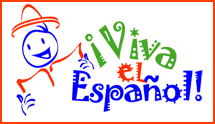 Viva El Español provides immersion Spanish classes that meet every day on campus from 7:40 to 8:20 a.m. from Sept. 26 through June 2. There will be a beginner, intermediate, and advanced class, to accommodate all levels (even kids who speak Spanish at home and want to improve their grammar/writing ability).
The program is fee-based, but scholarships are available, and Viva El Español will make it work for anybody who is committed to showing up so early each morning to participate. Nobody will be turned away for inability to pay, so if you are interested and motivated, please join in!
Ms. Champion has flyers in the office. You can register or find out more about the program by calling (925) 962-9177, or visit the school-based programs page on the  Viva El Español Web site and scroll down to find the Claremont Knights logo.