Seventh grade parent Andy Beyer talks about how Claremont's team sports program, supported by the Claremont Fund, helped his son Noah acclimate to a new school environment as a sixth grader: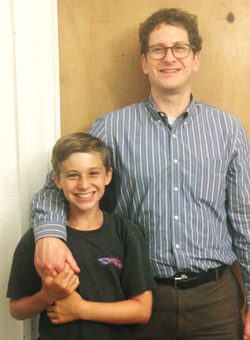 "Core academic preparation is a must for all students, but sometimes it's the learning and experiences outside of the core that makes school matter to students. The Claremont Fund helps make this a reality.
"Like all incoming 6th graders, last year my son Noah (now in 7th grade) had to navigate the transition from elementary to middle school – with new teachers, classmates, and expectations – making it a stressful time for all involved. What helped smooth Noah's transition was the sense of community he enjoyed while joining some of the sports teams at Claremont. Through participation in the after-school cross-country and soccer teams, Noah expanded his group of friends to include kids from other grades and from other elementary schools. Being a part of this new peer group helped Noah navigate these and other new challenges at school.
"I know that my son had little exposure to computers at home, other than playing games. But once he took the 3D animation lab class, he become a tech sponge and has since become quite savvy at using Chromebooks. This may just be his favorite class!
"These are just a few of the experiences that have made an impact on my son and have made his time at Claremont special. Thanks to the Claremont Fund, programs like these can and will continue to be offered to all our students."
—Andy Beyer, 7th Grade Parent
Make your tax-deductible contribution online by simply clicking here and selecting your level of giving. Or, make a check payable to the Claremont PTA and drop it off in the PTA box in the office with a note specifying that it's for the Claremont Fund. You can also mail your check to the Claremont PTA, 5750 College Ave., Oakland, CA 94618.
Whatever amount you choose to give, whether it's a monthly donation of $20 or a one-time donation of $500, every gift matters.
If you have questions about the Claremont Fund or need assistance, please contact one of our Co-VPs of Fundraising, John Ifcher at johnifcher@gmail.com, or Tara McCulloch at tara.mcculloch@gmail.com.