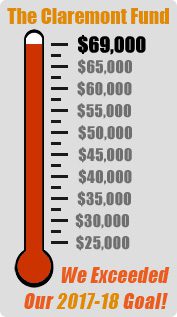 Dear Claremont Families,
The Claremont PTA wishes to extend a big THANK YOU to all of our supporters. Because of your generosity, the we have raised $69,000 for the 2017-18 Claremont Fund, exceeding our fundraising goal of $50,000!
The Claremont Fund provides crucial support for our Claremont faculty and staff, the library, outdoor education, sports programs, and much more.
If you forgot to donate, we can still put your generous gift to work for Claremont. You can make a one-time or monthly donation online (click here to donate online) or by check (to do so, bring a check payable to "Claremont PTA" to the school office and place it in the PTA mailbox).
Thank you again for your support!