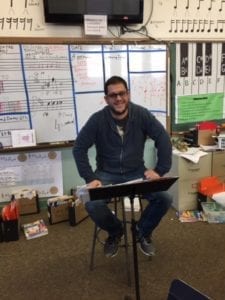 To the average set of human ears, a bunch of sixth graders making their first attempt at playing together as a band might not be a welcome sound.
But to music teacher Ariel Brown, making sure students get the notes right isn't even close to the most important part of his job.
"A band is the largest team activity you'll find at a school," he says. "You're not only responsible for your part, but you've got other
people counting on you. Band teaches socially important things like problem solving and actually listening to each other."
At Claremont, every sixth grader gets at least one semester of music, with band as an elective for seventh and eighth graders. The zero period jazz ensemble is open to all comers. Students choose from instruments including flute, trumpet, clarinet, and trombone.
"We spend the entire class trying to play," Brown says, "and that doesn't always come easily, so we're learning grit, determination, and the social skills necessary to work in small, collaborative groups."
Equity in access to music
Students arrive at Claremont with a variety of musical backgrounds, but, as Mr. Brown points out, "the idea that developed in conversation with Mr. Mayer was that we wanted to create an equity of access to music."
Some students have been playing for years and some have never picked up an instrument, but, as Brown points out, "the cognitive demands of music are really high," so benefits abound for beginners and pros alike.
Although OUSD maintains a supply of instruments, support from the PTA is crucial. Instruments take a beating from eager learners, and new sheet music is always needed.
Dreaming of bartone sax or a timpani
Once the basics are covered, Mr. Brown is hoping for some "once in a generation" big-ticket items like a baritone sax, a timpani, and a smattering of new bassoons and oboes. Last year the PTA purchased a new tuba and, according to Brown, "hearing a band with a tuba versus one without is like scratching an itch."
While Mr. Brown's own background is in jazz and classical, not every student will gravitate to those disciplines.
"I drill them over and over again on the questions they need to be asking as they teach themselves to play an unfamiliar piece of music," he says. "Then they can become autonomous musical learners who can take their curiosity in any direction they can imagine."