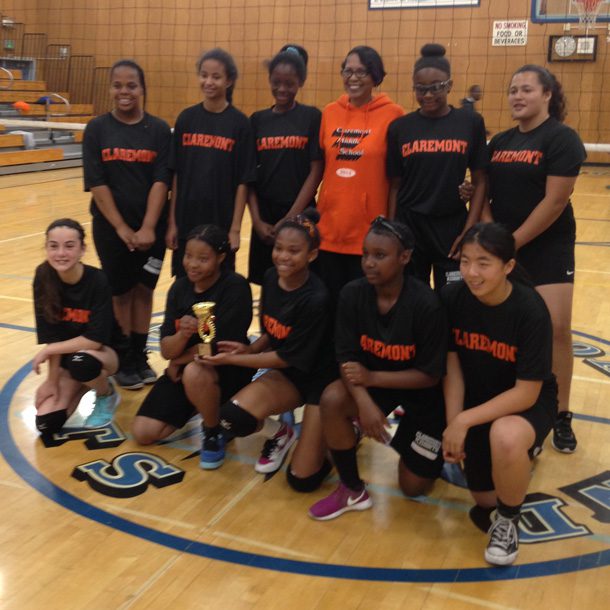 The Claremont girls volleyball team finished its season in grand style by defeating both Montera and Elmhurst to win the first ever OUSD Middle School Volleyball Championship on Saturday, May 14.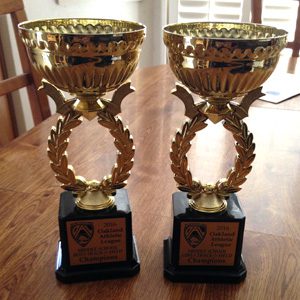 The Lady Knights took on Montera first. They continued their season-long great serving and took a quick 4-0 lead. Montera fought back with some good serving of their own to close the gap to 4-3. Once they got the ball back, Claremont took it from there. They served out the game to win 15-5. Montera took the second game 15-10 but used a lot of energy. Montera seemed to never recover and Claremont won the match 2-1 by winning the third game 25-9 to advance to the championship match against previously undefeated Elmhurst.
Elmhurst started the match with just the minimum six players. This would come back to haunt them. Both teams were very skilled, and this made for long rallies. The long rallies led to fatigue. Coach Doubley used her full team of athletes to keep fresh players in the game. The team showed the ability to rally better than Elmhurst. The Lady Knights won more of the long rallies, and Claremont used its excellent serving skills to win game one, 25-10. Elmhurst, after a tough game one, was tired. Claremont, with fresh players and skilled servers, took full advantage. They outplayed Elmhurst in the second game and won easily, 25-8.
Congratulations to the Lady Knights! The coaches would like thank everyone who came out to support the team all year long.