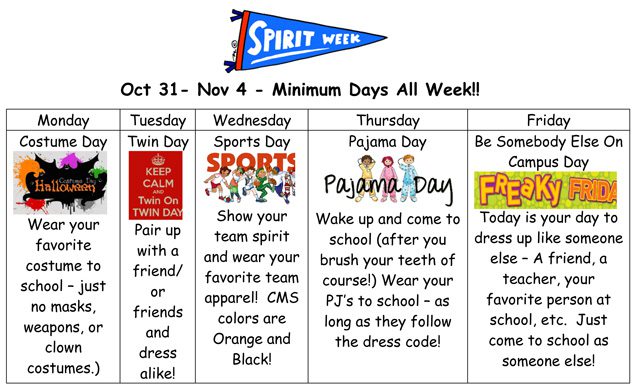 The week of Oct. 31 to Nov. 4 is Spirit Week at Claremont Middle School, with 1:19 Minimum Day dismissal every day (to allow time for Student Led Conferences after school), plus a different spirit theme each day of the week:
Monday: Costume Day
Wear your favorite costume to school – just no masks, weapons or clown costumes.
Tuesday: Twin Day
Pair up with a friend or friends and dress alike.
Wednesday: Sports day
Show your team spirit and wear your favorite team apparel! CMS colors are orange and black.
Thursday: Pajama Day
Wake up and come to school (after you brush our teeth, of course). Wear your PGs to school – as long as they follow the dress code!
Friday: Be Somebody Else on Campus Day
This is your day to dress up like someone else – a friend, a teacher, your favorite person at school, etc. Just come to school as someone else!