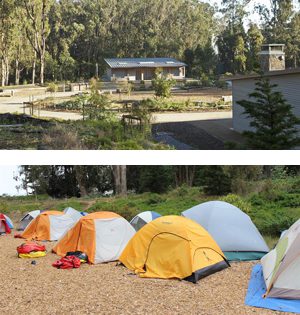 Our 7th grade students will be going on a three-day camping trip from Wednesday, Oct. 19 to Friday, Oct. 21, at the Rob Hill Campground in San Francisco. The campground is located within the Presidio of San Francisco near the southern end of the Golden Gate Bridge.
An informational meeting for 7th grade families about the trip is scheduled for Thursday, Oct. 6, from 5 to 6 p.m. in Ms. Lehman's classroom (Room 26, on the second floor of the main classroom building). The meeting will end before the PTA community dinner and meeting also scheduled for Thursday evening.
There is no cost for students to participate in this PTA-funded outdoor education trip. Transportation, tents, sleeping bags, sleeping pads and camp food will be provided for all students.
Click here to download the required gear list for the trip »
Two work sessions have been scheduled for parents who want to help organize the trip:
Friday, Oct. 7, 3:30-5 p.m. in Ms. Lehman's room: inventory gear bins and make nonfood shopping list
Friday, Oct. 14, 3:30-7 p.m. in Ms. Lehman's room: pack and label gear bins with nonfood items
Please contact Ms. Lehman (malia.lehman@ousd.org) if you have any questions about the trip.